I've noticed an interesting trend.
I'm seeing organizations starting to celebrate the fact that they're implementing SPE—inside the organization, and even outside!
I'm thinking, maybe the popularity of The Machine is empowering executives to be a little bolder. Or maybe we're just doing a better job of selling the end-state. Either way, it's a nice trend.
Thermogroup UK
The boldest example is Thermogroup in Kent (UK). Thermogroup manufactures and distributes underfloor heating systems.
When I arrived at Thermogroup to run a two-day Solution Design Workshop, I wasn't too surprised to find the room rigged with video recording equipment. Our clients often record these workshops for internal reference.
But I was surprised the other day when Thermogroup turned some of their footage into a promotional video and a blog post—heralding the SPE initiative. Think about the level of commitment this signals to the rest of the organization.
Carusele
Another example is Carusele in North Carolina (USA). Carusele sells branded content as a packaged media offering.
Shortly after their inside sales team kicked off with its first campaign, Dave Ryan (their creative director) stayed late and created a chalk mural to celebrate the initiative.
Furthermore, Jim Tobin, Carusele's president took it upon himself to create a video for the sales team members, demonstrating how he handles common objections.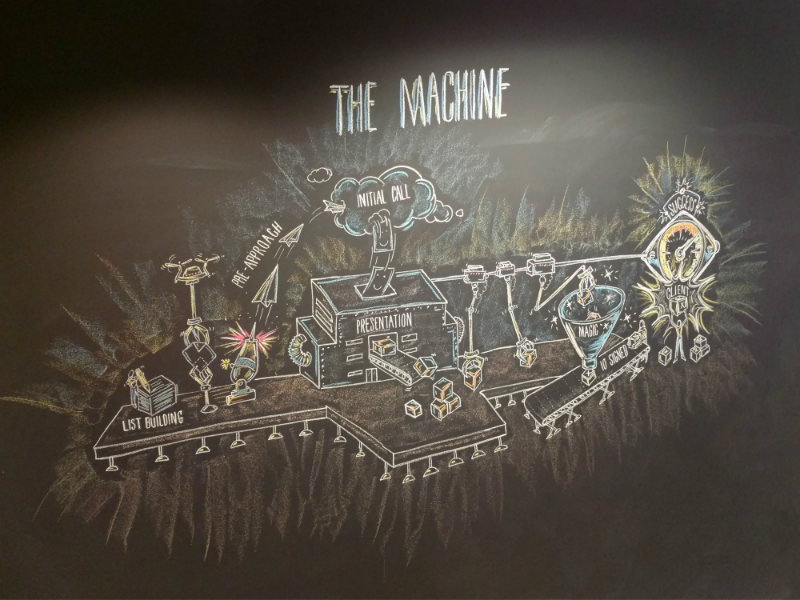 Lamar
From day-one, Lamar made a significant commitment to their SPE initiative (a small, HQ based inside sales team). Lamar is one of the largest outdoor advertising companies in North America.
For starters, they made one of their most senior executives responsible for this initiative. When it came time to recruit inside salespeople, they ran billboards around Baton Rouge and threw a mixer to introduce candidates to Lamar. And, to date, they are the only organization we work with that maintains twice-daily role-playing sessions to ensure that their salespeople's phone technique is always sharp.
What really impressed me, though, was that Lamar had one of their marketing crew attend a full-day phone-skills workshop we ran for them. After lunch this person disappeared and made a set of posters containing key ideas for the training. When the inside sales team arrived at work the next day, their work area was already decorated with these posters!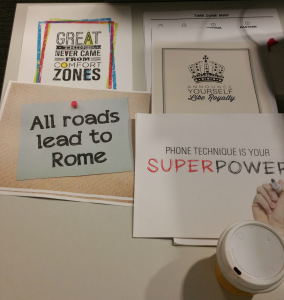 The power of celebration
It's true that these are feel-good stories. But they're not just feel-good stories. I've been doing this long enough to know that leadership teams that telegraph their commitment to major initiatives like this tend to inspire a similar level of commitment from their team leaders.
Consequently, these initiatives become shared adventures, rather than change management exercises!