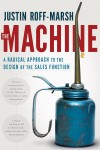 Hi there!
Thank you for requesting this package.
We'll have a copy of The Machine (sampler) in tomorrow's post for you (if not today's).
You are now on my blog. While you're here, why don't you take a moment to look around?
If you want to get started reading The Machine, click here for the table of contents (or here to read the sampler in a nicer user interface).
If you like the first four chapters so much that you want to buy the whole book, you can get it here (Amazon).
I hope you enjoy The Machine.
Justin