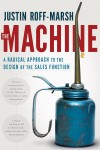 If you're here, it's because you requested the sampler of The Machine. I hope you're enjoying it.
This page contains the bonuses you were promised when you requested the sampler. Most of the content on this page is not publicly available. I hope you find value here.
If you've started reading the sampler and you're liking what you're reading, you should consider purchasing The Machine. If you purchase it using the link below, you'll get access to even more bonuses than the ones below. These include a six-class video short course (Beyond The Machine) and perpetual access to the Ballistix Resource Center (containing job ads, job descriptions, examples of promotional campaigns, and much more).
Buy The Machine now (and claim those additional bonuses).
Downloads
The Machine (Sampler: first four chapters, PDF)


This is the sampler you already have. If you like, you can download this PDF and send it to your Kindle account or read it in any PDF reader.

Reengineering the Sales Process (Entire book, PDF)
This is my first book. It's a compilation of articles, initially from a print newsletter, and then from early Ballistix online publications (prior to blogging). A lot of the content is outdated now, but there's some material of interest. Note the similarity between what we used to call Relationship Centric Marketing and what is called Inbound (or Content) Marketing today. We backed away from this approach for the same reason we are not fans of the inbound religion today.
Online content
Keynote presentation: Lunch-n-Learn event (presented in April 2011)


Justin, running a luncheon seminar in Sydney Australia. Well worth watching. But, bear in mind, it makes no reference to Inside Sales, which is a critical component of SPE today.



Multimedia Presentation (introduction to SPE)


This is a (very) old presentation of SPE (from around 2006). It reasons from first principles for the elimination of salespeople's autonomy. It will be of particular interest to engineers (TOC specialists, in particular).

Ballistix webinar series


This is a series of webinars Justin has delivered over a number of years. If you're here, you're on our list, which means you'll be invited to our webinars when we run them.
Other online destinations