I have a tip for you for the holiday period that's such an awesome tip it almost qualifies as a Christmas present.
Trust me: you'll be so glad I blogged about this.
A one-hour interview with a founder, every day of every work week: totally free!
Every day of the (work) week, I listen-in on a one-hour interview with an entrepreneur.
Since I moved to LA, I've listened to shockingly-good interviews with founders, business owners and business luminaries – people like:
Tim Ferriss (who wrote the 4-Hour Workweek and who invests in numerous Bay-area start-ups)
Gary Vaynerchuk (founder of Wine Library TV and author of Crush it)
Jimmy Wales (founder of Wikipedia)
I listened to these interviews on a site called www.mixergy.com. And, amazingly, I've paid nothing for the privilege.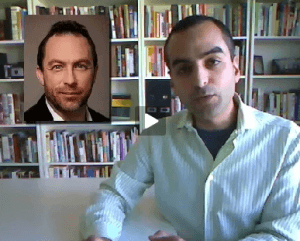 Andrew Warner interviews Jimmy Wales (Wikipedia)
The sole purpose of this post is to encourage you to go to Mixergy – to encourage you to start listening to Mixergy interviews – and encourage you to develop a daily Mixergy habit, just like mine!
Please understand that this post is a no-holds-barred endorsement of Mixergy – but it's NOT a paid endorsement. Andrew Warner (the founder of Mixergy) has no idea I'm writing this post – and I stand to get no benefit whatsoever (other than sharing what has, for me, been a life changing service).
And frankly, I prefer it that way. Absent any commercial relationship, there's no need for me to pull any punches. I can literally plead with you to take the time to discover Mixergy.
So, I've given you a hint of what Mixergy is about. A free one-hour interview every day of the (work) week with a founder. But that's not the half of it.
Three things that really make Mixergy special
There are three more things you really need to know about Mixergy:
First, the high-profile interviews I've mentioned above are just the tip of the iceberg. Of the 658 interviews Andrew has on his site – and of the ~200 I've listened to – the greater majority are total strangers. And that's part of the magic. Every week I hear stories of people I've never heard of who've tapped into markets I never imagined existed and who have built businesses that turn over millions, tens of millions or even hundreds of millions of dollars.
The second thing you need to know about is Andrew Warner. This guy is a seriously good interviewer. He's gentle and understated like Larry King. But he has an ability to dig for the key ideas – the root causes of founders' successes – that is simply unequalled. Part of Andrew's magic is that he's a founder himself. Hi built and sold a $38 million online greeting-card company before starting Mixergy. This means that has the credibility to put his guests on the spot from time-to-time and challenge them to justify their positions. This makes for a subtly different dynamic between Andrew and his guests that you simply won't experience elsewhere.
You also should know that most (not all) of Andrew's subjects are founders of tech start-ups. Obviously, as someone with a tech bias, this is very appealing to me. But, it I think it should be appealing to you too, even if you are not technically inclined. This is because the tech industry is in a period of rapid growth unlike any other industry. It's also because the tech industry attracts some of the world's brightest entrepreneurs – who compete unrelentingly to be on the cutting edge of all critical business functions.
Benefits I've received from Mixergy interviews
In the year or so I've been addicted to Mixergy, I've learned so much about just so much!
I've learned a lot about online marketing – about PPC, SEO about analytics, about aggressive media buying, about the optimization of landing and squeeze pages and so much more.
I've learned a lot about funding growth – about the pros and cons of taking outside investment, about cashflow management, about taking on partners and so much more.
And, I've even learned a thing or two about traditional operations – inventory management, creating productive vendor relationships and more.
Plus, I've picked-up so many tips that have delivered immediate benefit to our business. One example: we used to buy an SMTP service from www.smtp.com. Then, one day, I heard an interview with the founder of www.sendgrid.com – a competitive service. I was impressed with the founder so I checked-out the service. Bottom line, I switched to a much more advanced service with a laundry-list of features I didn't previously have and much better service. And, I cut our monthly SMTP bill almost in half!
That's just one example. If I sat down and thought about it, I could probably identify (literally) 20-30 similar instances. And I pay NOTHING for Mixergy!
Nuts and bolts
Yep, it costs nothing to listen to Andrew's interviews. You can watch the videos each day as he posts them or you can set up your podcast catcher to download the audio for you (I use iCatcher on my iPhone).
These interviews are available free for everyone for seven days. After that they disappear behind a paywall. If you want to listen to past interviews you can get access to all Andrew's content for $199 a year.
I haven't actually subscribed to Andrew's paid service yet – I will shortly. But, I'm not suggesting you do that on day one.
Here's what I am suggesting:
Get over to Mixergy now and watch one of the current interviews: www.mixergy.com
If you like what you hear, download one of the numerous free podcast catchers to your mobile device and subscribe to Mixergy from that application
Whenever you're in your car – or on a plane – listen to a Mixergy interview – in place of the radio
That's the process I followed. It took me about 10 days to go from casual interest to fan to total addict. I've already introduced Mixergy to a few of our clients, here and in Australia, and they report the same experience.
So, as the great Molly Meldrum used to say, do yourself a favor, get over to www.mixergy.com, and start listening.
And have a very Merry Christmas!