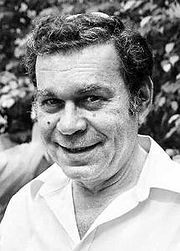 His full name was Dr Eliyahu Goldratt but the world knew him as Eli.
He burst onto the world stage when his first book (The Goal) became a runaway best seller.
The Goal went on to become one of the most-read business books of all time and Eli established himself as one of a small number of big thinkers in the area of business.
Eli developed an interest in business shortly after earning his PHD in Physics. He recognized that a manufacturing environment is a complex system – ill-suited to the standard plant-scheduling practices at that time.
A radical new approach to plant scheduling was baked-into OPT – the production planning software produced by Eli's first company. But Eli grew frustrated with the slow uptake of OPT and set to work writing a book that would dramatize his production-planning method.
The Goal was an unusual book. It was a fictional story about a plant manager and his journey of discovery. It was also a love story!
As The Goal became required reading in every business (and business school) in the developed world, Eli noticed that managers who read the book and applied his ideas without software were seeing dramatically better results than his company's software customers were.
With that realization, he turned his back on software development and devoted the rest of his life to writing, consulting and teaching. Eli named his body of knowledge Theory of Constraints (TOC).
He first packaged his plant scheduling approach into a formal method called drum-buffer-rope.
He then launched a new approach to project management with a book called Critical Chain and a method of the same name.
In subsequent years, he turned his attention to management accounting, distribution, strategy and general problem solving.
I first encountered Eli when Brian Menzies (The CEO of Flair) showed me a video of Eli sharing his thoughts on the development on what he called a Mafia Offer. I was captivated by Eli's reasoning and insight, and purchased The Goal that weekend (about 8 years ago).
I spent all day Saturday reading. I started reading over breakfast in a café and when I couldn't drink any more coffee I shifted to a sunny park bench. I finished reading as lunchtime ran into dinnertime and I was beginning to overstay my welcome at my regular luncheon haunt.
As I think is the case with most people who read The Goal, the book had a profound effect on me. But its message was especially important because it contained the solution to two problems that were constraining the growth of Ballistix at the time.
I set to work integrating the key insights from the Goal into our approach to sales management. I sent an initial draft of a whitepaper to Eli, who was quick to offer his agreement and support. Since then, I've become closely involved with the global TOC community and I've been lucky enough to meet with Eli on numerous occasions and work with many practitioners of TOC across three continents.
Sadly, Eli passed-away last weekend.
His passing is huge loss and a terrible shock to the TOC community. His legacy, however, is so significant that he will never be forgotten. Anyone can experience Eli by reading one of his many books – or by absorbing some of the many audio and video programs that he produced.
I will be forever grateful that I am one of the lucky few who can say, I knew Eli.