Gavin Ross is one of those special people who seems never to be short of energy.
Today, however, he is particularly animated.
He's relating the story of how, with the assistance of Justin Roff-Marsh Advertising (now Ballistix), he has shifted his business's growth into overdrive.
"Consider this," he says – in an effort to justify his excitement – "it took me 22 years to build my business. Come June 2000, it will have taken Justin Roff-Marsh Advertising just 12 months to double it in size."
As Gavin's story unfolds, it's easy to understand his enthusiasm. The last six months have seen Gavin replace an unsuccessful advertising campaign with one that generates more new clients than he can possibly handle. He's replaced an unstructured, labour-intensive sales process with one that operates virtually on autopilot. And he's replaced a comfortably uncluttered diary with one that's booked solid – two full months in advance!
An unconventional investment methodology
Gavin Ross is a portfolio manager.
His clients are high net-worth individuals (they must have a minimum of $500,000 to invest) who wish to enjoy the higher returns of direct share investment, without having to make buying and selling decisions themselves.
Gavin provides these clients with an alternative to a managed fund. Unlike a managed fund, Gavin manages the shares in his clients' private accounts. His clients benefit from lower fees, as well as from a more personalised management service.
Gavin's clients also benefit from his unconventional management methodology. Gavin classifies himself as a 'value investor'. Value investing is a method that has been popularised by America's hugely successful Warren Buffet (the world's second-wealthiest man).
While many traditional fund managers would like to be regarded as value investors, the quarter-to-quarter reporting requirements (and, in many cases, the sheer size) of their funds makes this longer-term and (more selective) method of investment management impractical.
After a long history in the financial planning industry (he was one of the original founders of the Australian chapter of the International Association for Financial Planning), Gavin launched his portfolio management service 22 years ago.
His business grew steadily, fuelled by a steady stream of referrals from satisfied clients – as well as by regular media exposure. As his clientele grew, Gavin increased his minimum initial investment from $50,000 to its current level of $500,000.
Reluctant advertiser
When Gavin asked Justin Roff-Marsh Advertising to take a look at his newspaper advertisements, he had just about given up on advertising. "I was like most business people," Gavin explains, "I figured that advertising was something you did in expectation of some immeasurable longer-term benefit. I ran ads reluctantly, but I had never known an advertisement to generate more than one or two telephone calls.
"I spoke to Justin Roff-Marsh Advertising because I was intrigued by their editorial-style ads. I had no idea whether or not they worked – I just knew I liked reading them!
"What surprised me about Justin Roff-Marsh Advertising was that, unlike other advertising agencies I'd spoken with, they didn't seem to place much importance in ads. Their attitude seemed to be 'sure we'll fix your ad, now let's talk about your sales process'.
"I've got to admit, their seeming disinterest in advertising unnerved me at first. I couldn't see much sense working on my sales process when I was coping quite comfortably with my current referral business. I simply had no idea of the level of activity their advertising was about to unleash."
A success story waiting to happen
Justin Roff-Marsh, from Justin Roff-Marsh Advertising, explains that Gavin Ross & Co. was a marketer's dream come true.
"When we met Gavin, we met a man with a remarkable story to tell. He had an invaluable brand in Melbourne. (He had received regular media attention for years – including once being featured on the cover of Personal Investment magazine.)
"His unconventional investment methodology was exciting. (America has a number of popular value investors, including Warren Buffet and Peter Lynch – but no one has taken ownership of that category in Australia.)
"And his enthusiasm for share investment was infectious. (Invariably, when Gavin visits our office, our entire team gathers in the boardroom to ask his opinion on shares, and to marvel at his down-to-earth explanations of otherwise unfathomable economic principles.)
"Gavin was a success story waiting to happen. He'd already done all the hard work – all we had to do was press the 'start' button!
A whole new sales process
The Justin Roff-Marsh Advertising team proposed a three-step sales process. First, advertise to generate responses from qualified potential investors. Second, send respondents a comprehensive information pack to pre-sell Gavin's service – and invite them to invest. And third, plug respondents into an ongoing communications program – to continue to nurture a relationship with those who don't invest immediately.
Justin Roff-Marsh Advertising designed Gavin's lead-generation advertisement to appeal to those Melbournians who already knew Gavin from his regular media exposure. The advertisement mentions his $500,000 minimum initial investment, to avoid generating information pack requests from those who cannot afford his services.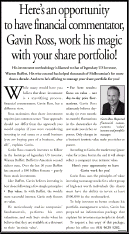 Justin Roff-Marsh Advertising then created a high-quality, eight-page booklet to replace Gavin's existing 'corporate' brochure. Justin explains why. "Gavin's existing brochure wasn't a bad looking document. The problem was, its four pages of unemotive bullet points really undersold Gavin's unique service offering. We wanted to sell Gavin by empowering the reader with a rudimentary understanding of his unconventional investment methodology.
"Furthermore, we wanted to make Gavin's sales process less labour-intensive by 'institutionalising' much of the information he was disseminating to potential clients in face-to-face meetings."
The resulting document explains the shortcomings of traditional managed funds, and then teaches the reader Gavin's 'five laws of value investing'. It details Gavin's investment management service and helps the reader to determine whether or not Gavin's service will be appropriate for his or her situation. The document also contains a detailed biography of Gavin Ross.
To facilitate ongoing communication with those respondents who don't invest immediately, Justin Roff-Marsh Advertising converted Gavin's existing quarterly report into an 'open letter to high-net worth investors'. Like his new brochure, this open letter adds value to Gavin's relationship with potential clients by continuing to teach them about his investment methodology.
The results
At time of writing, Gavin's new sales process has been operating for around five months.
But Gavin is still having trouble coming to grips with the results it is generating.
He winces a little as he relates the numbers – almost as if he suspects he's dreaming, and he's terrified this introspection will jolt him awake!
"The first time the ad appeared in the Melbourne Age, it generated 186 information pack requests. I just couldn't believe it. I've never seen the phone ring like that before!
"When I sent respondents their information packages, I was confident that we would get one or two new clients – just one new client would have more than paid for the ad.
"Nothing happened for about a week, and then the phone started ringing again – with people requesting appointments. In total, I got five new clients from that first advertisement. Between them, these new clients placed just over $3 million dollars under my management.
"The amazing thing is that subsequent advertisements have yielded similar – if not better results."
Gavin currently has a queue of potential clients, waiting up to two months to meet with him. He's employed additional staff and had his computer network rebuilt – but, for the moment, he just can't grow any faster.
Gavin concludes, "The future looks exciting. By June next year, I will have easily doubled my funds under management. Once I've done that, I'm going to close-off my service to new clients, so I can concentrate on looking after my existing clients – and my new project, of course."
Gavin is reluctant to reveal details of his new project just yet, although he admits it will be in the financial services industry. And, like his portfolio management service, he claims he will be pioneering an investment concept never before seen in Australia.
He is less reserved, however, in his praise of Justin Roff-Marsh Advertising. "You guys took a good business and you transformed it into an absolutely outstanding one. I just can't thank you enough."